Beach style decorating ideas to help you create a fabulous retreat!
Are you looking for some beach house decorating ideas? Do you love the idea of decorating your home in a clean, breezy, and easy-going coastal style? Learn to make a seashell wreath, decorate with natural elements, all while staying on a budget!
What is it about the beach that makes us so relaxed? Is it the warm sun, the cool breezes, or the sound of the ocean? You don't have to own your own home by the beach to bring a touch of beach decorating to your home.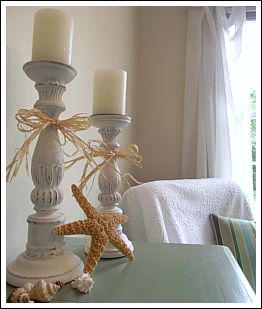 Beach house decorating is about imitating nature's own color palette; keeping your house uncluttered and relaxed. It is a mindset of serenity and peacefulness.
Paint Colors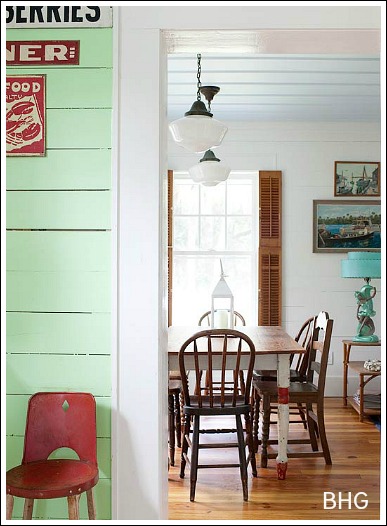 When choosing interior paint colors you want to imitate the color hues from the water, sky, and sand. Use colors such as soft blues, light greens, coral, sand tones, and sheer pinks. The right color choice can really bring out any tropical decor.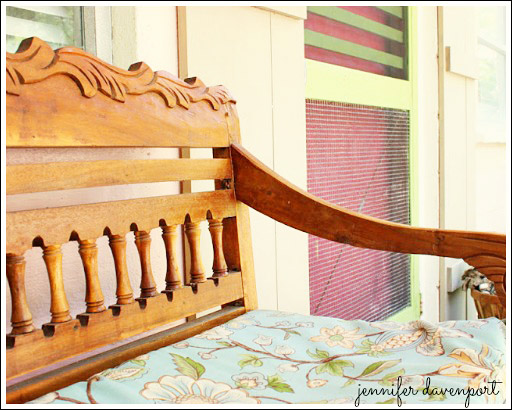 Don't be afraid of color. Here a fun fabric on an outdoor bench looks happy and fun.  The colorful door and screen door just say "welcome!".
Beach Decor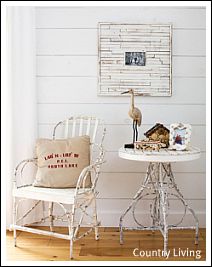 The wonderful thing about finding beach theme decorations is that you can find many things that come from nature. Sand, sea shells, rocks, coral, driftwood, and rope are just a few natural beach decor accessories.
Just tying a little raffia around the candlestick added just the right touch.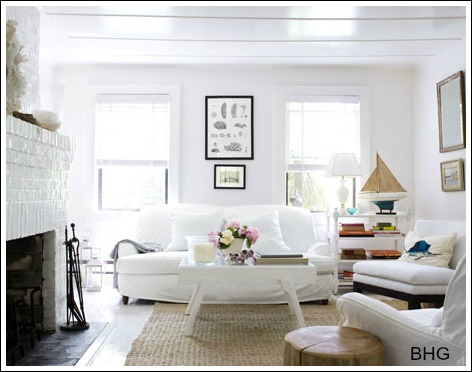 In this photo the beach decor is an old boat model, a fish pillow, a polished wood stump, sea shell wall art, a jute rug, and white slipcovers.  Beach house decor is very easy and uncomplicated decorating.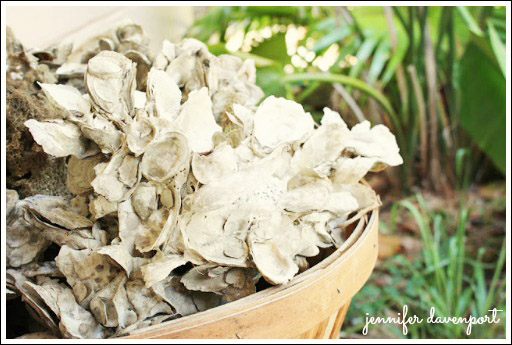 Find a large basket and fill is with oyster shells, or sea shells. This a cheap decorating idea that looks wonderful.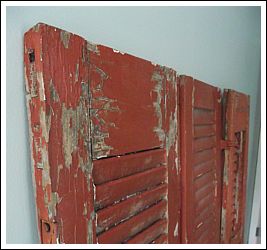 Another unique item is old wood shutters. I found these at the local flea market. They make a fabulous addition to the coastal style! A beautiful seashell wreath is another way to bring nature indoors.
Remember when accessorizing, to keep things simple and uncluttered. Don't overdo it with too many accessories.
Beach Cottage Window Treatments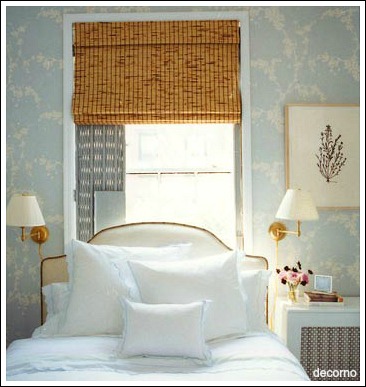 The wonderful thing about window treatment ideas for beach house style is you don't have to spend a fortune! Just installing simple bamboo window coverings would look wonderful.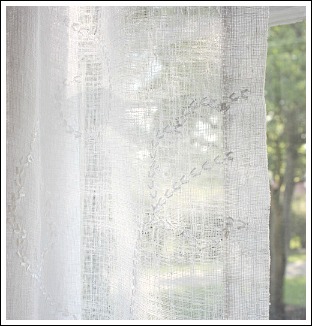 Sheers are the quintessential look and feel for a coastal look with the dreamy way they flow in the breeze. Ready-made sheers are inexpensive and easy to install.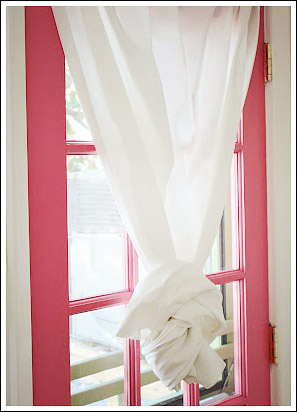 For a unique and inexpensive curtain design, buy some super cheap white curtains from Wal-mart, and tie a large knot in them.
Beach House Style Furniture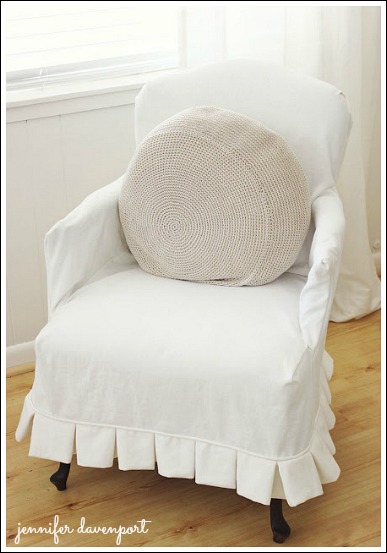 Whenever I think of beach cottage furniture, I always think of couch slipcovers, Adirondack chairs, and rattan bar-stools. Furniture that is easy to clean, isn't stuffy looking, and just says; "hey come over here and sit awhile" is just so appealing and relaxing.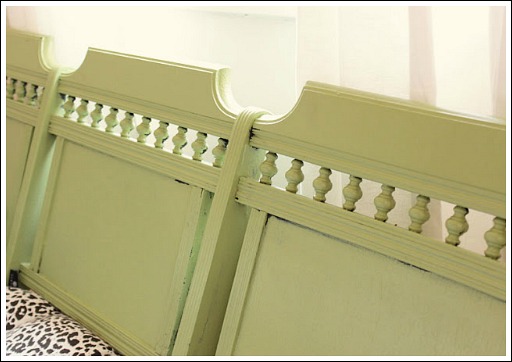 Painted and distressed wood furniture is a perfect fit with this style!
Beach House Bedding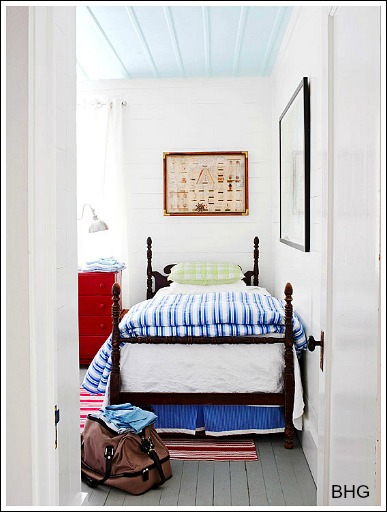 With this particular style of decorating you don't want to have too many patterns or designs. Beach house decorating is different from trying to decorate with a tropical theme. It is all about soothing elements, fabrics, and colors. When putting together your beach bedding it is okay to mix and match soft colors.
Beach Cottage Style Flooring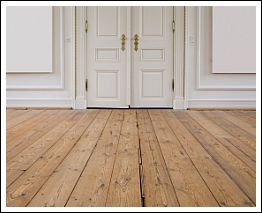 Hard wood flooring with a light hue finish, wide plank boards, or even white washed wood floors really finish off your total look. The whole idea of beach house decorating is simplicity and a style that keeps you relaxed. Decorating with things that already have a worn look helps you not worry about an extra scratch or dent.
The same goes with flooring. Choose flooring that you don't have to worry about!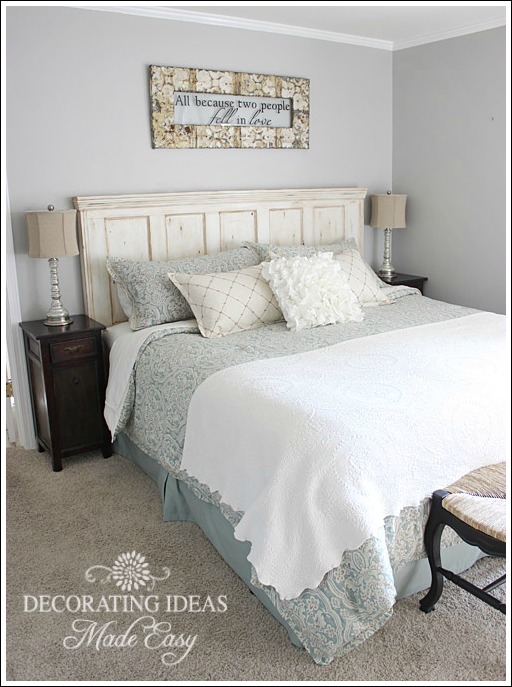 Read this page that will show you how to turn your bedroom into a wonderful beach retreat!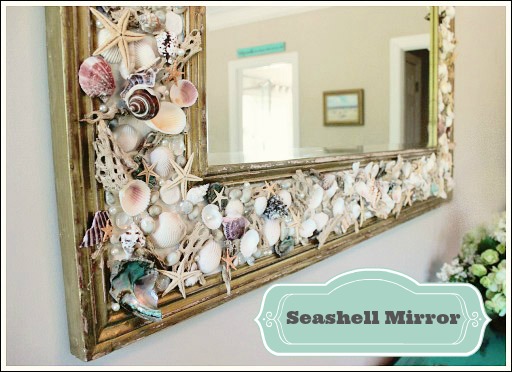 This was an old mirror that I hot glued all sorts of shells, driftwood pieces, and starfish onto.  It was a fun little project.
If I had my way, I would live in a small cottage by the sea. I would give away half of my belongings and live a much simpler existence. Maybe that is what appeals to me about this particular style of decorating; it constantly reminds you to slow down.
The nature that you bring in from outdoors, just somehow seems to make you feel connected — connected to the bigger picture of how small we really are.