I literally could look at painted furniture ideas all day long! Reading about how someone applies a faux painting technique that adds an instant patina of age is always so interesting and intriguing. Someone that is able to see an old beat up piece of furniture, and realize its' potential is a special person.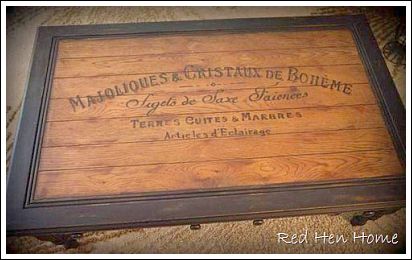 I would love to introduce you to Korrie, from Red Hen Home. She is a magician at turning any piece of furniture into a work of art! Whether you are looking for French Country furniture, or Cottage Style furniture, her painting techniques add a touch of Old World elegance.
French Country Cottage Furniture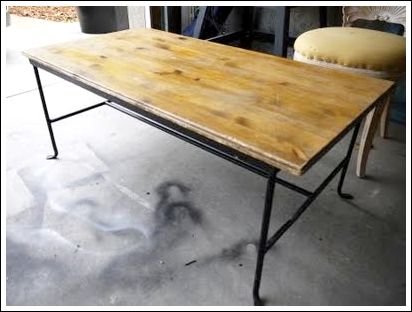 I am so excited to show you some of her projects! This is a project she calls "A Little French Chocolate".
Sanding the top of this table was the first step! Korrie says to not worry about "nicks, dings, or scratches"; they are what gives character to distressed furniture.
Next, she looks for clip-art online. She prints off the clip-art and then takes it to an office supply store and has them copy it onto an overhead transparency sheet.
Korrie then uses an overhead projector to illuminate the design onto the furniture. This next part is what takes time, and that is painting your design onto your table. (It is so worth the neck-ache!)
After you have completed painting your letters on, you want to sand and distress the letters down.
She then applies Antique Walnut stain, wiping off the excess. And the last step is to add a coat of polyurethane. Then you have- GORGEOUS!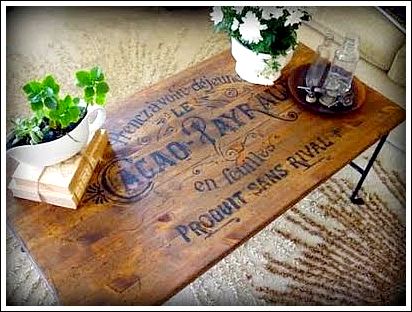 Timeless Coffee Table Makeover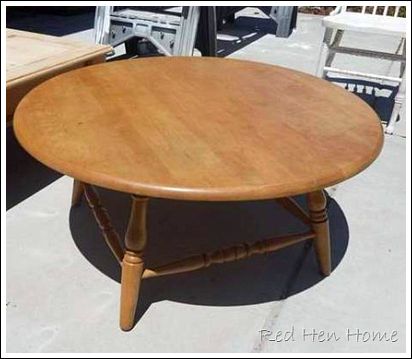 How many of us have seen a table like this at the flea market, or a garage sale? Well, wait until you see what she does with this table!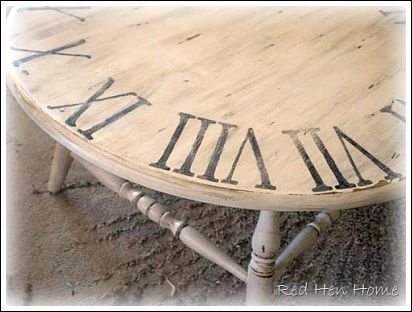 This "clock" table was painted off white, and then antiqued. The numerals were traced onto the table, and then painted with black acrylic paint.
Gorgeous Dining Room Furniture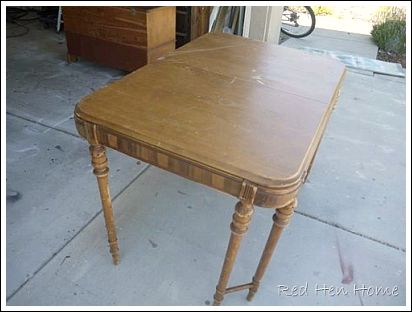 Some people just have a knack for seeing "a diamond in the rough". That is definitely the case in this project!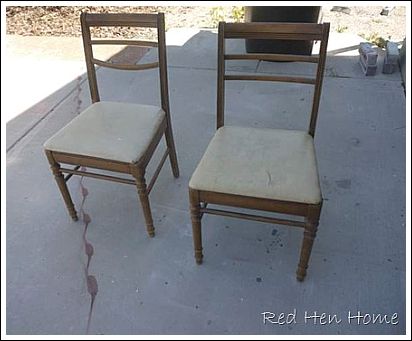 If you are willing to roll up your sleeves and apply a little elbow grease, you can create unique painted furniture ideas for your home. I really can't explain the gratification that goes into "creating" treasures!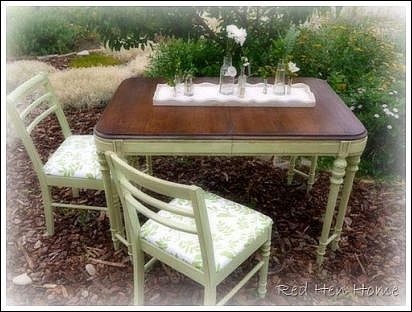 This finished dining room table is so beautiful! The new chair seat covers, the aged paint, and shiny new stained top are just fabulous! I love distressed painted furniture in any room.
Stop by and see Korrie at Red Hen Home! You won't be disappointed!
In case you need more painted furniture ideas: