Distressed painted furniture is one of my favorite things to drool over. There are many fabulous women bloggers who have learned how to transform old and dated furniture into treasured pieces! I would like to introduce you to Rebecca from Youaretalkingtoomuch.blogspot.com.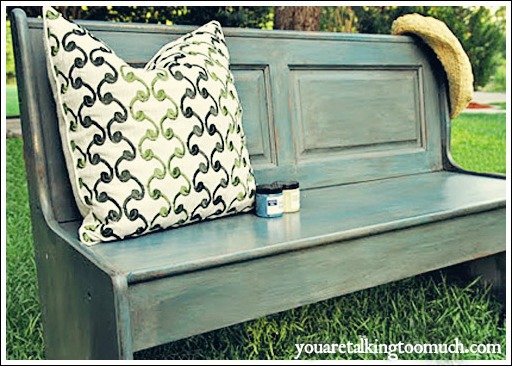 She was kind enough to grant me an interview, and share some of her distressed painted furniture projects. She has an endearing sense of humor, and a great outlook on life.
I have found that the women who are able to see the "diamond in the rough" in furniture, can also look beyond the flaws in others and see the good that is always underneath.
Distressed painted furniture that has a Pottery Barn look!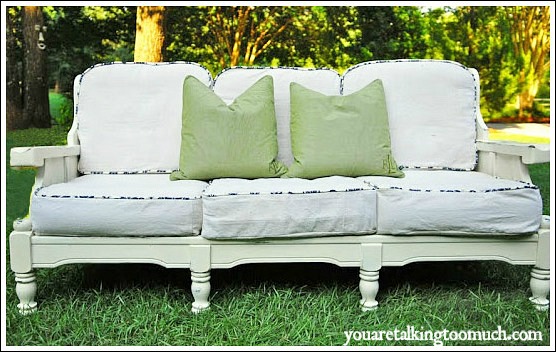 This project Rebecca calls her Pottery Barn furniture look. If this isn't one of the best cheap decorating ideas, I'm not sure what is! Take a look at the before and after pictures.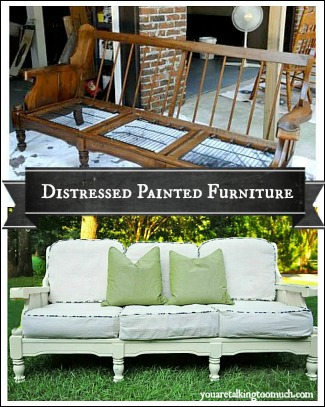 Isn't this a wonderful transformation? Rebecca did an outstanding job on this furniture makeover. The new couch would fit right into the French Country Cottage furniture style!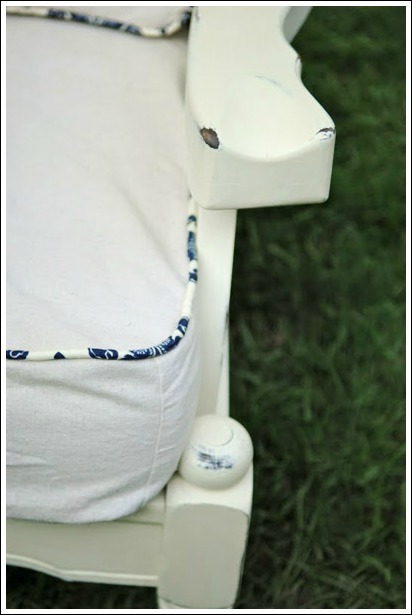 Rebecca used drop cloths to recover her cushions. The fabric covered piping adds a dramatic effect to the overall look.
Rebecca and I had a little chat….
Obvious question, but how did you come up with the name of your blog? I love the title, very catchy, and leaves a mystery as to whether you are talking to someone, or quoting a line spoken to you.
I am smack dab in the middle of seven children. I was the "chatty" child. I grew up with my teachers, brothers, sisters, mom and dad reminding me that I was "talking too much" at times.
Even as an adult, when I get carried away with conversation, they still "lovingly" remind me that "I am talking too much".
After going through some difficult times in my life, I started getting quiet. As I was healing, I missed the sound of my own voice, and blogging became therapy for me. I thought this was a great way to get my "talk" out and my voice back. Guess what? It worked. So many wonderful followers have no clue how their comments were steps towards helping me to heal. They have given me my "talk" back.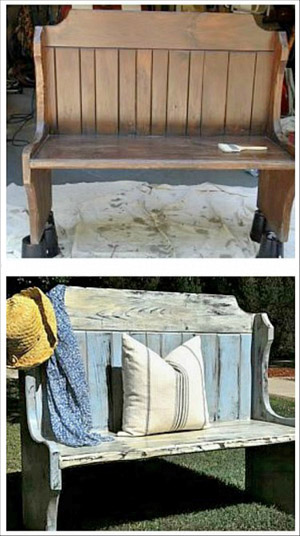 I agree with your philosophy of "I have found more value in less, and less desire for more". In a society where we want more and more, what was the pivotal point in which you began to embrace this philosophy?
I was raised embracing this philosophy, with hand-me-downs, home-made gifts, and not much in abundance, but lots of love. Today, the economic downturn impacted myself, like so many others, and just brought this philosophy back with a clearer understanding.

Here she changed an old mirror into a chalkboard! She did not prime this mirror before adding the chalk board paint. She did however, add three coats of the chalkboard paint. Another distressed painted furniture idea, with a little help from chalkboard paint!
What value has your philosophy of "less is more" brought into your life?
A sincere love of "less". My family's sweetest memories are not of the times that we had the most, but of the times when we had the least. By simplifying my life and getting back to basics, I have a renewed value for less. My children understand value better, appreciate things more, and simplifying not only applies to decor, but for me it applies to life.
Most people would turn their nose up at second-hand furniture, but you see that diamond in the rough. Where did you learn how to do this?
I was raised with an appreciation for new and used items. We "thrifted", shopped at garage sales, consignment stores, and we were taught to appreciate how someone's trash could be transformed into our treasures.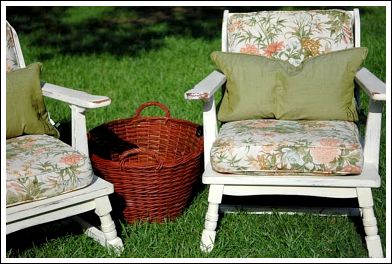 I really hope you enjoyed these fabulous distressed painted furniture ideas from Youaretalkingtoomuch.blogspot.com. Go by and visit Rebecca for some great project ideas, and go by to learn it really is more than furniture; it is a way of life. Thank you Rebecca.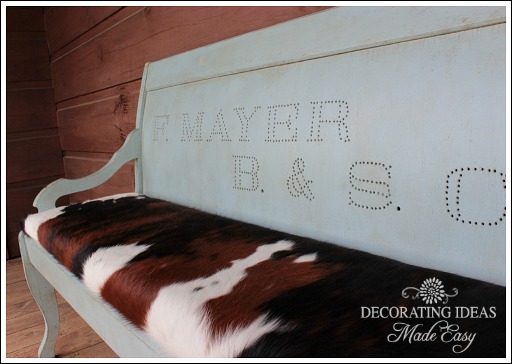 Here is a fabulous bench I found at the flea market for my log cabin clients! I painted and distressed it, and covered it with real cow hide.  This bench is dated 1880, and the logo is from a boot and shoe company. And, this is why I am addicted to the flea market!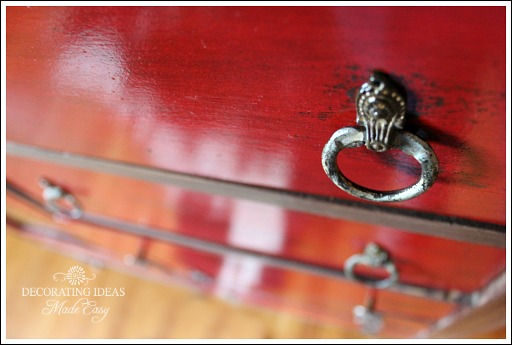 Here I painted only the drawers of an old dresser.  The red and wood tones looked fabulous together!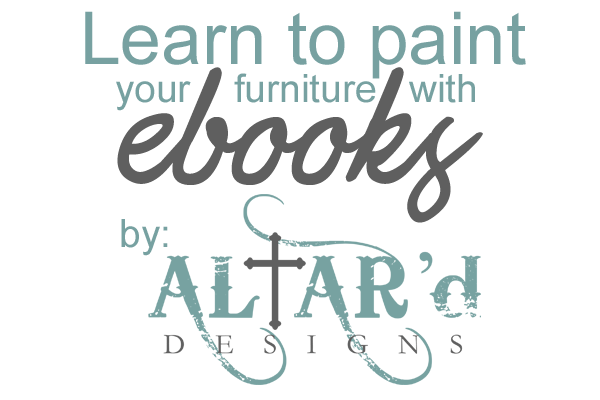 Click the link below and get started painting!
Click here to visit Altard Furniture.