One of my favorite DIY projects is faux painting furniture. I honestly think it is one of the most rewarding projects you can tackle. It gives the biggest bank for your buck when it comes to decorating your home on a budget.
If you are looking for cheap decorating ideas, then learning different furniture painting techniques can bring you tons of pride and lots of compliments from friends and family.
The look of distressed painted furniture can fall into the French Country style or Country Cottage style!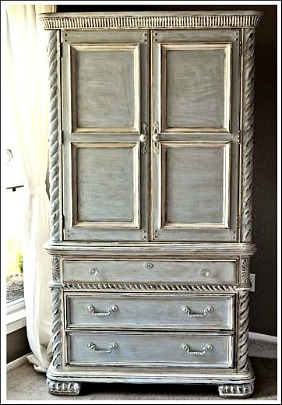 Would you like to learn how to faux finish your own furniture? Then, I would love to introduce you to Altar'd, a fabulous company that offers two fabulous E-books on faux painting furniture, and decorative finishes. Altar'd is run by Colby and Mandie, a husband and wife team that is all about the art of faux finishing furniture. Altar'd began out of Mandie's passion for transforming furniture into a work of art. She understands how a custom piece of furniture can be the highlight of any room.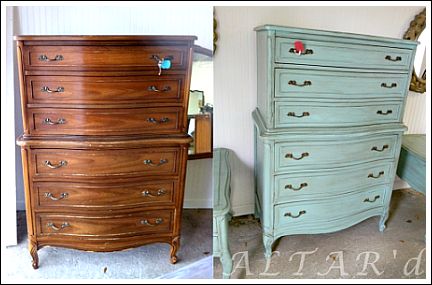 This is a transformation from the Altar'd collection. Is this not a stunning piece of furniture? Whether your style is French Country, or you love Cottage Style Decorating, painted furniture is so beautiful.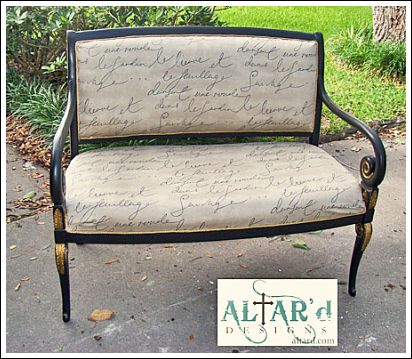 How many of you would love to have this bench in your home? I grew up watching my mother faux finish furniture. She taught me the importance of living frugally. It seems like every decade has different faux finishing styles. The nineties were all about sponge painting. Now, chalk paint is quite the rage. But, whatever medium you choose, just don't be scared to learn!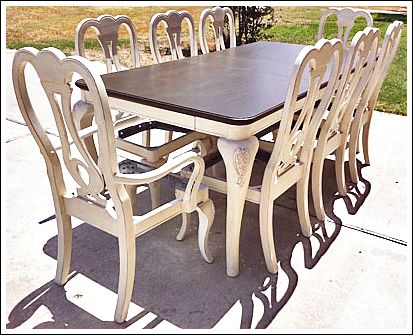 How many of you have seen a dining set like this at a garage sale, flea market, or on Craigs List? Probably with a horrible old-looking dark stain, and coated with polyurethane that is bullet proof.
But, how much money could you save purchasing a used dining set and transforming it like Altar'd? And, can I throw in some advice? When you have purchased used furniture, and even if you spent hours transforming it with paint or stain, you don't have a heart attack when someone scratches it, or spills something on it.
I have a coffee table I paid $5 for at a garage sale. You know what I feel about this table? Put you feet up, have a cup of coffee and relax. Coaster? Forget about it! It creates peace in your home when you don't have to constantly "WORRY" about something brand new getting damaged!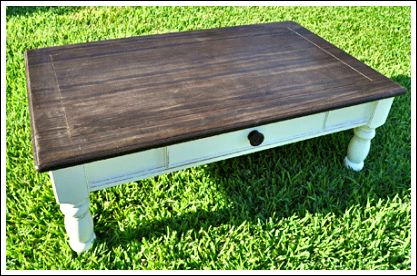 So, ready to start on a project of your own? Below, are three step-by-step guides to help you when creating your own custom furniture.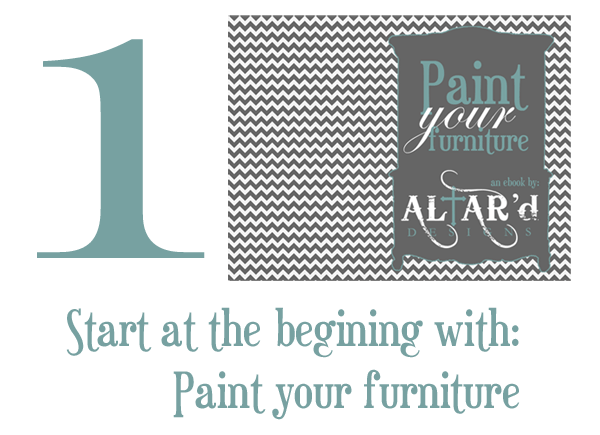 This $10 Guide shows you from start to finish how to take your pieces from drab to fab! Altar'd will teach you how to prep, paint, distress, and apply antique glaze. This guide will proved 84 pages of tips, how to's, their favorite paint colors, and products.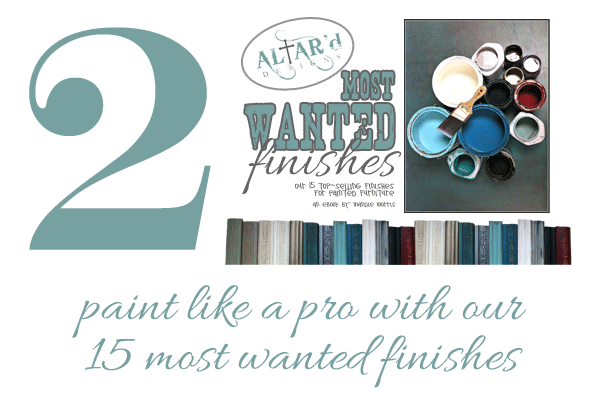 Most Wanted Finishes includes recipes to create Alar'd's top 15 Best Selling finishes for Painted Furniture.
Ready to learn about Decorative finishes?  This guide will show how to use metallic paints, silver leaf, chalkboard paint, decoupage, stencils, and more! This guide also features creative ideas from "Miss Mustard Seed", "Simple Matters", "Twice Lovely Furniture", and "Primitive & Proper". This tutorial is only $10!
CLICK HERE to purchase your Altar'd Furniture E-Books.
Good luck with your project. Take before and after photos and send them to me! I'd love to see them!