Need ideas and inspiration?
I am so excited to show you some of my chalk paint furniture!  Have you ever painted with chalk paint?  Wondering what chalk paint is exactly?
Chalk paint requires no sanding or priming!  Two of the things I hate to do the most!  Below are some fun before and after photos I hope you enjoy!
Annie Sloan's paint, was the first time that I had ever heard of this kind of paint.  She sells tons of different chalk paint colors on-line.
Chalk paint gives furniture a unique vintage look.  You can add a dark paste wax that will really give your furniture a distressed and antique look.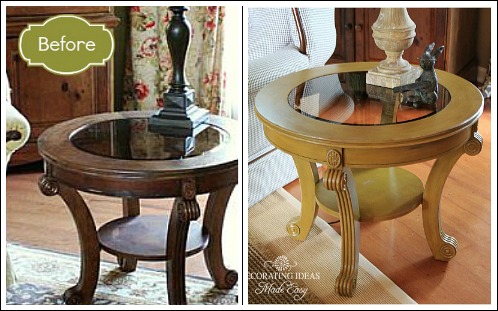 This is a table I purchased at a garage sale for $20.  It is a solid and heavy piece, but the stained finish was not my style.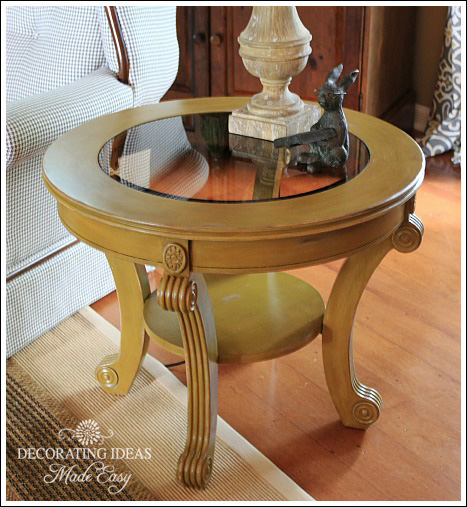 With chalk paint, I did not have to sand or prime this stained piece.  I just started painting.  I love it.
NOTE:  Chalk paint requires a top coat of sealer.  Either a polyurethane sealer, or a wax sealer.  You can purchase clear wax, or a tinted wax.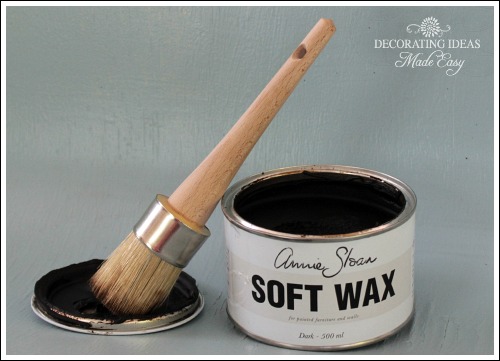 I have used this wax on my furniture before and really liked it!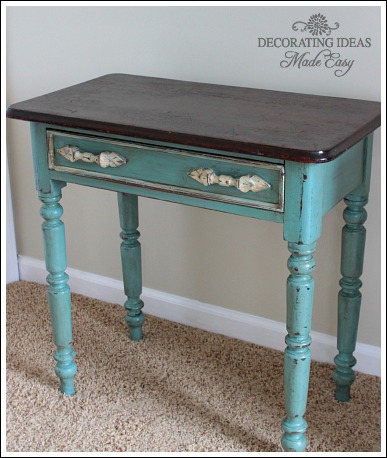 To add some detail and character to your painted furniture, don't paint the top of a table.  Stain it in a dark color.  If possible, paint your knobs or drawer pulls a different color.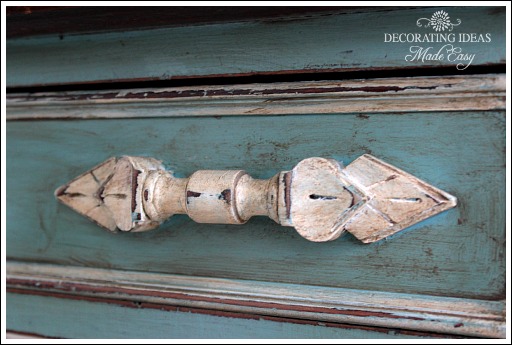 Sand off some of your paint and let the stain show through. I love this look!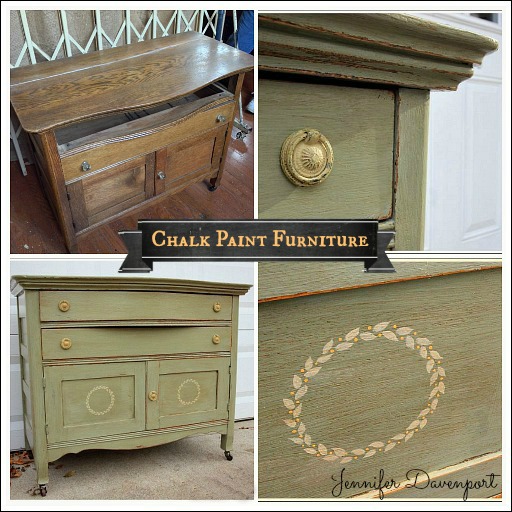 This is one of my favorite chalk paint ideas.  I love the color green! I even used chalk paint to paint the drawer pulls.  Although I painted the design onto the doors free-hand, you can also purchase a stencil and make a really unique hand-painted look on your furniture.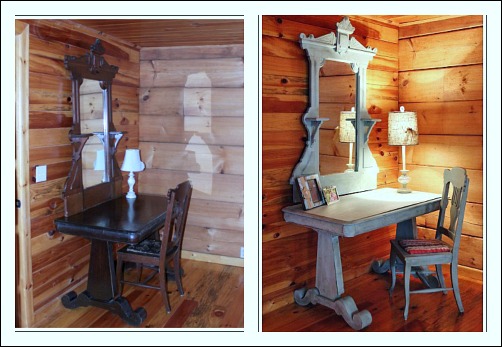 I'm sorry my photos aren't too great, but this was an old dresser a client wanted me to paint for their teenage daughter's room.  Let me tell you, not having to sand or prime this piece was a delight!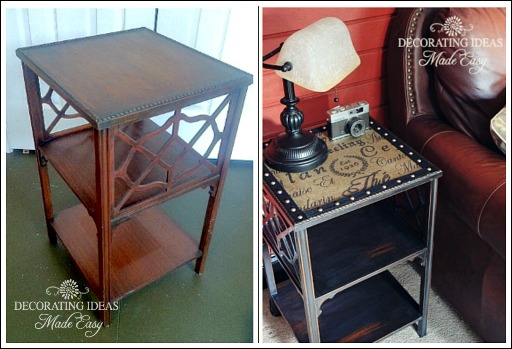 This piece turned out really cool!  I used black chalk paint and also sanded some of the paint off so that the stain would show through.  The top of this piece is actually fabric!  I used Mod Podge to attach the fabric onto the top of this table.  After it dried, I sealed it with two coats of polyurethane.  Then, I ran some black trim around the top, and hammered upholstery tacks in over the trim.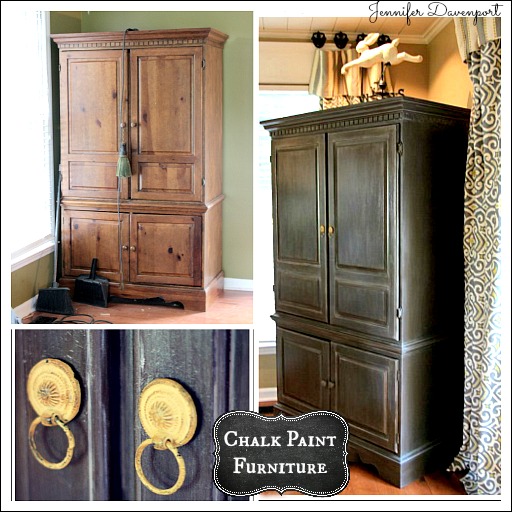 I have had this armoire for years.  So, when we gave our living room a makeover, this was on the list also.  It is amazing to me the difference paint can make!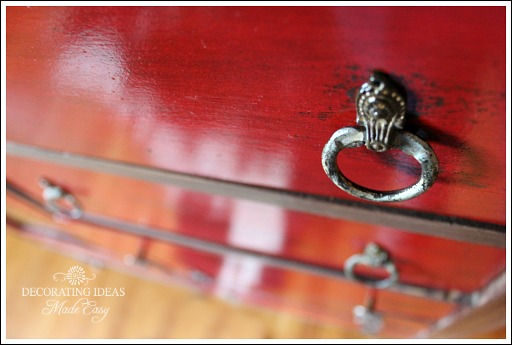 Don't be afraid of a little color!  A colorful piece of furniture looks fabulous in any room!
Tip:
If you want your chalk paint furniture to have a distressed look, sand off the edges where it would naturally get worn.  By that, I mean the corners and edges.  By doing this your furniture doesn't look like you just painted it!  It looks distressed and time-worn.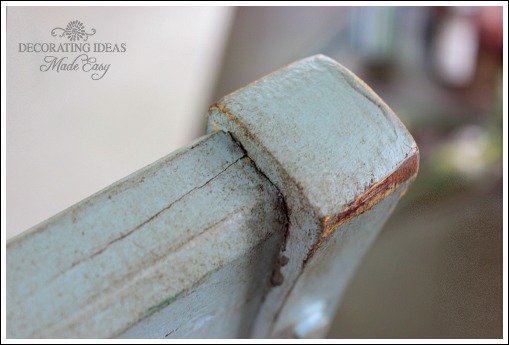 How to Make Chalk Paint
If you would like to try making your own chalk paint, below is the easy recipe.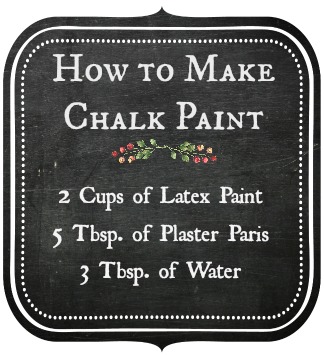 You can save a lot of money by painting your own furniture.  Buying an inexpensive piece and giving it your own personal touch makes it that much more special!